Accelerator
Overview
The RI Beam Factory (RIBF) is an accelerator complex which consists of an old facility (since 1986) and a new facility which has been completed recently.
The old facility has the world-class heavy-ion accelerator complex consisting of a K540-MeV ring cyclotron (RRC) and its two injectors: a variable-frequency heavy-ion linac (RILAC) and a K70-MeV AVF cyclotron (AVF). These accelerators have been providing a lot of users in various research fields with the world's most intense ion beams over the whole range of elements. The RILAC provides a heavy-ion beam with energy up to 6 MeV/nucleon. The AVF provides protons up to 14 MeV and Ca ions up to 5.6MeV/nucleon. The RRC can provide protons up to 210 MeV, heavy ions such as C, O and Ne ions up to 135MeV/nucleon, Ar ions up to 95 MeV/nucleon and Bi ions up to 15 MeV/nucleon. Details of the energies and intensities from these accelerators are found in <concept>. Moreover, the projectile-fragment separator at the RRC (RIPS) provides the world's most intense low-atomic-mass (< 60) RI beams.
The RIBF has very recently added new dimensions to the facility's capabilities: a new high-power heavy-ion booster system consisting of three ring cyclotrons with K=570 MeV (fixed frequency, fRC), 980 MeV (intermediate stage, IRC) and 2500 MeV (superconducting, SRC), respectively, can boost energies of the output beams from the RRC up to 440 MeV/nucleon for light ions and 350 MeV/nucleon for very heavy ions. An 880 MeV polarized deuteron beam will also be available. The goal of the available intensity is set to be 1 pμA, which is limited due to presently planned radiation shielding power around a primary-beam dump. The superconducting isotope separator, BigRIPS, converts these energetic heavy-ion beams into intense RI beams via the projectile fragmentation of stable ions or the in-flight fission of uranium ions. The combination of the SRC and the BigRIPS expands our nuclear world on the nuclear chart into terra incognita.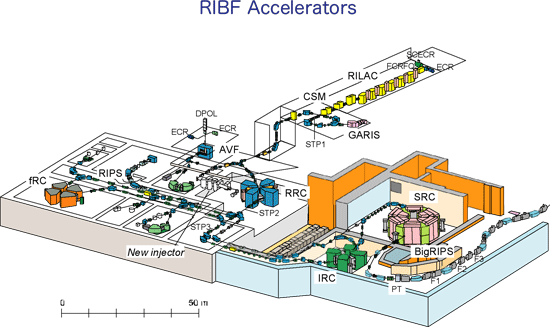 Contact person