User Guide : RIBF Independent User Program
RIBF Users Office is to be closed on August 6 - 8.
'Training and Guidance as RIBF Independent User' will NOT be provided on weekends and on these holidays.

Please take this circumstances into consideration when making your travel plan.
Japanese | English
Facilities Available to RIBF Independent Users
Cafeterias
Campus Map is attached at the bottom.
Business Hours

Payment Method

Main Cafeteria (Daiichi Shokudo)
Campus Map C61
Mon.- Fri.
11:45~13:30(Lunch)
17:30~20:00(Dinner)

by Suica or PASMO - e-money for train/bus transportation.
Please buy Suica (or PASMO) at the airport with a refundable deposit of
JPY500 and charge certain amount on before using.
 
<Suica>
http://www.jreast.co.jp/e/pass/suica.html
 
<PASMO>
http://www.pasmo.co.jp/en/

Fri.

17:30~20:00
(Friday Night Pub 'Kinsaka')

Hirosawa Club Cafeteria (Daini Shokudo) (1F)
Campus Map C72

Mon.- Fri.
11:30~13:30(Lunch)
18:00~20:00(Dinner)
Club House Cafe (Kyosai Club)
Campus Map C61
Mon.- Fri.
8:30~9:30(Breakfast)
12:00~14:00(Lunch)
15:00~17:00(Cafe)
Mon.,Wed.
17:30~20:00(Pub)
Tully's Coffee
Campus Map C51
Mon.- Fri.
8:30~20:30
Cash Only
Sat.
9:00~18:00

The bakery-on-wheels service "Ichikawa"
Campus Map E04 (in front of LINAC Laboratory)

Tue.,Thu.
11:55~12:30
Cash Only
Library (Campus Map C44) Please bring your
RIBF User Card

with you.

Opening Hours: Mon. - Fri. 10:00~17:00
Reference and photocopying are available. Circulation is not available.
Clinic (Campus Map C63)
Service is available in emergency.
LAN
Wireless LAN guest connection is available. It is unable to access online journals registered with RIKEN. Please ask RIBF Users Office for details.
Campus Map

PDF for Print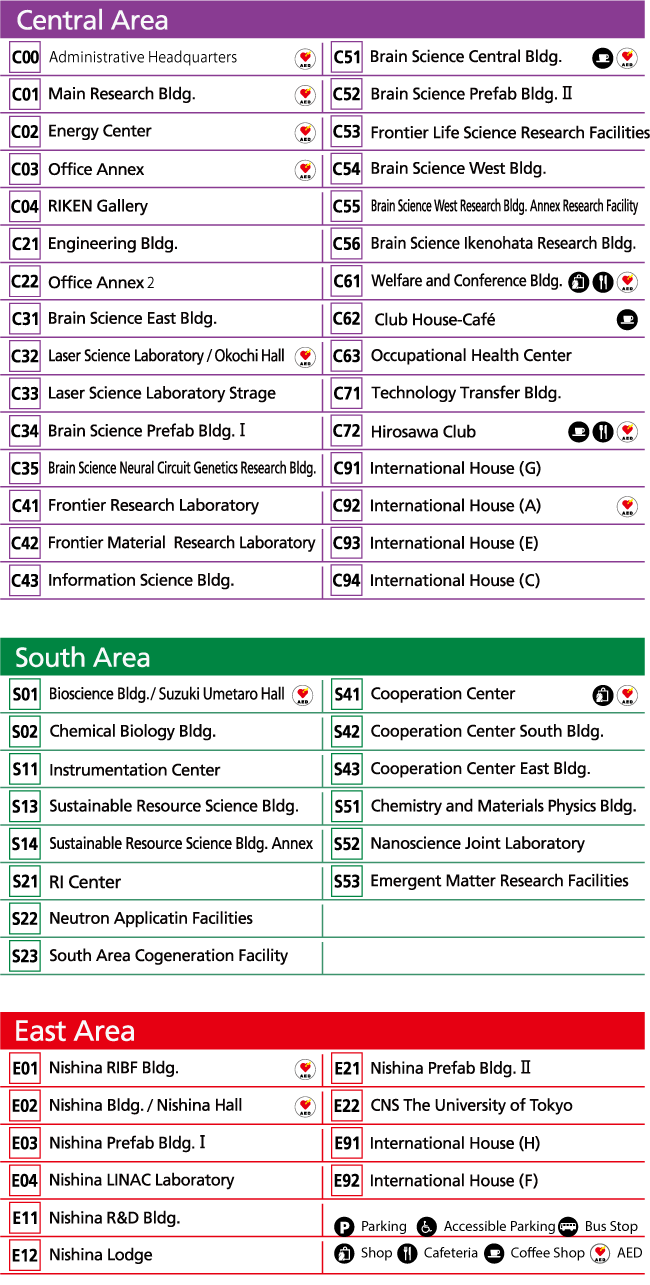 | RIBF Independent User Program | Registration Procedures | Accommodation | Available Facilities | Contact | Application Forms | FAQ |