Research Facility Development Division
Nuclear Science Research Division
RHIC Physics Research Group
Accelerator Applications Research Division
Directly under the Nishina Center
Closed Laboratory
Cryogenic Technology Team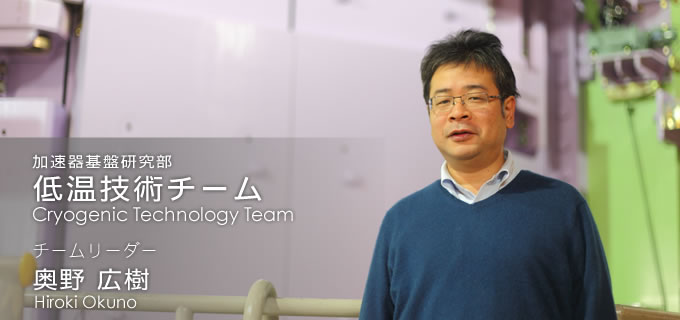 1989年

東京大学理学部物理学科卒業

1994年

東京大学大学院理学系研究科物理学専攻(博士課程) 修了

1994年

理化学研究所 基礎科学特別研究員

1995年

理化学研究所 研究員

2002年

理化学研究所 先任研究員

2008年

理化学研究所 加速器高度化チーム チームリーダー(現職)

2008年

理化学研究所 低温技術チーム チームリーダー(兼務、現職)

2008年

理化学研究所 加速器基盤研究部 副部長(兼務、現職)
Staff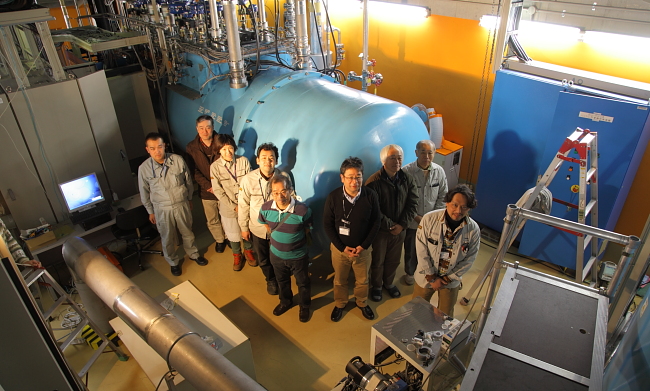 Research Areas
We are operating the cryogenic system for the superconducting ring cyclotron in RIBF. We are operating the helium cryogenic system in the south area of RIKEN Wako campus and delivering the liquid helium to users in RIKEN. Our goal is that we collect 100% of gas helium after usage of liquid helium in Wako campus.

Research Subject
Optimization of the cryogenic system for the large-scaled superconducting ring cyclotron.
The high efficiency of the liquid he'Œium production cycle.
List of Selected Publications
Okuno, H., Dantsuka, T., Yamada, K., Kase, M., Maie, T., Kamigaito, O.:
"SUPERCONDUCTING RING CYCLOTRON FOR RIKEN RI BEAM FACTORY IN JAPAN"
Proc. of CEC/ICEC 2009 Tucson, USA 2009

Okuno, H., Yamada, K., Ohnishi, J., Fukunishi, N., Ikegami, K., Maie, T., Hasebe, H., Kamigaito, O., Sakamoto, N., Kumagai, K., Yokouchi, S., Kase, M., Goto, A., Yano, Y.:
"Commissioning of the Superconducting Ring Cyclotron for the RIKEN RI Beam Factory"
IEEE Trans. Appl. Supercond., 18 (2008) 226

Okuno, H., Yamada, K., Ohnishi, J., Fukunishi, N., Ikegami, K., Maie, T., Hasebe, H., Kamigaito, O., Sakamoto, N., Kumagai, K., Yokouchi, S., Kase, M., Goto, A., Yano, Y.:
"The Superconducting Ring Cyclotron in RIKEN"
IEEE Trans. Appl. Supercond., 17 (2007) 1063.

Okuno, H., Ohnishi, J., Fukunishi, N., Tominaka, T., Ikegami, K., Goto, A., Fujinawa, T., Nagase, M., Ryuto, H., Yokouchi, S., Yano, Y.:
"Magnets for the RIKEN Superconducting Cyclotron"
Proc. 17th Int. Conf. on Cyclotrons and their Applications (Cyclotrons '04), Tokyo, Oct. (2004) 373.

Kwaguchi T., Ikegami K., Ohtake M., Okuno H., Ohnishi J., and Goto A.:
"Design of the He Cooling System of the Superconducting Ring Cyclotron"
ICEC 18 (International Cryogenic Engineering Committee) Mumbai, India 2000